If you think the up and coming generation: Gen Z are basically the same as Millennials…you might want to look up from your Avocado toast.
This new posse of tenacious teens and twentysomethings is already poised to take the eCommerce world by storm.
Members of Gen Z are 13–22 years old. 90% have their own phones, they make half their purchases using said phones and 64% say they're heavily influenced by imagery online when making shopping decisions.[1] They don't cozy up to brands. They ARE the brand. They're not idealistic. They're pragmatic. And they're not curators. They're creators.
Perhaps of most interest: Gen Z represents up to $143 billion in buying power, so understanding how they think, shop and consider the world around them is the next silver bullet.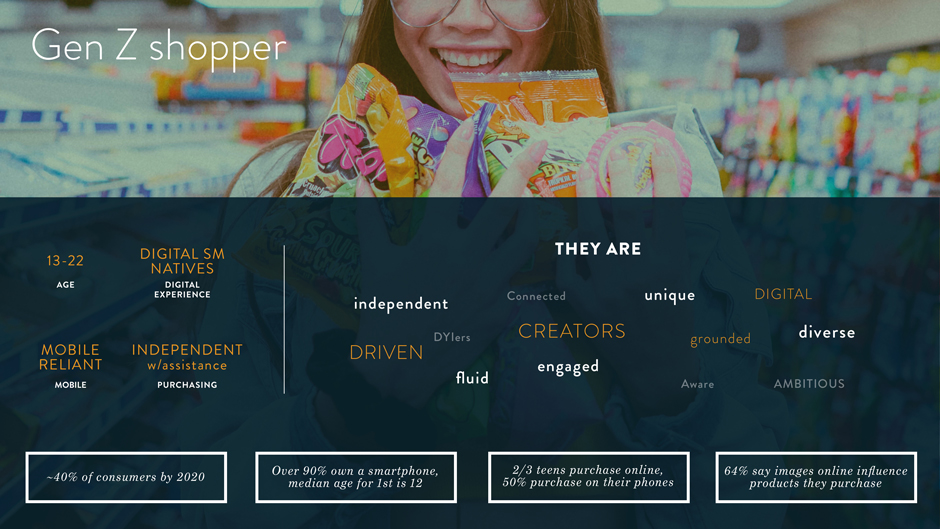 Gen Z & Amazon: The Mall Effect
For Gen Z, going to Amazon to "hang out" is a thing. It's a place where emotion trumps practicality, insightful content turns a sale, and the "mall effect" makes the Internet shopping giant the hottest place to see and be seen.
Like most shopping malls, Amazon is designed to facilitate the "Gruen Transfer," or the moment when consumers enter a store and are intentionally surrounded by a confusing layout, which distracts them from their original intentions…priming them for impulse buys.
They go to

Amazo

n when they're bored, just to hang out

They scroll for days because of FOMO (Fear of Missing Out)

They get hooked on color…imagining how everything would look with an outfit or in photos for social media (right down to their candy!)
Gen Z & Amazon: Brand Challenges and Solutions
Like every generation, Gen Z comes with its own set of challenges, many of them to do simply with the challenges of youth:
Consistency of available funds

Price Point

Sorting through all the options on Amazon

Waiting for delivery (vs. going in person)

Reliant on parents account or funds
Gen Z Phenomenons & How Brands Can Meet Them Halfway
Understand Ongoing Cart Curation

—purchase may not be at the time of discovery.

Gen Z

are practical and their money isn't always their own. They constantly browse, adding to their

Amazon

carts products they may need, products that catch their eye, or products they want to think about before making a final purchase. They are cash-strapped and are usually curating their

Amazon

cart while waiting for funds to become available. Making it into the

Amazon

cart is half the battle…making it into the final purchase is the win.

[3]
Craft an Experience

—

Gen Z

are willing to browse until they find something that compliments or enhances who they are, and that helps promote their own

brand

.

Show Them What You Can Do For Their Image

—

Gen Z

have a

desire to stand out and to be different, but they also need to be accepted and perceived as cool and unique.

They're searching for something no one else has or something they can "discover" that others will want to emulate. Creating unique experiences that help them visualize how your

brand

enhances their presentation as a person, will help break through the noise on

Amazon

.

Prime It and Price It Right

—

Gen Z

are more frugal than

Millennials

, so while they may be browsing and experiencing all their options, ultimately, they will filter down by

Amazon Prime

options and price. They are pragmatic and planners—and they want things fast. So while experiences matter…if they filter you out because of the lack of convenience or price is too high, you won't even be considered.

Build a Compelling Narrative

—

Gen Z

view

brands

as representations of their values, an extension of themselves. If they associate with a brand, what does that say about them? Are they part of something bigger than themselves, something cool and unique? They don't want you to talk at them, they want you to show them who you are and include them as part of the process. Consider your

brand

presence on

Amazon

and how you stand out against competitors in the same space. Authenticity, transparency and having a greater purpose are extremely high attributes valued by

Gen Z

.

Break Through the Noise

—

Generation Z

are

digital natives

. This is all they've known. They have incredibly short attention spans and are used to making decisions quickly. Add that to an incredibly noisy space of

Amazon

and their need to browse through everything, and you've got one chaotic blizzard of

brands

clawing over one another. Imagery, colors, showing people they can relate to, prime availability, and price all weigh heavily into your product being findable on

Amazon

and making it into the

Gen Z

consideration set.

Cast a Wider Net

—

Millennials

and

GenX

know what they want. They search exactly for that thing and get results served up that give us a selection of that thing, which makes a brand's

search strategy

easy. If you're selling sneakers, the

search strategy

would naturally include shoe-related keywords. But in a

Gen Z

world, where browsing is life and impulse buys online are the norm—they think about their purchases emotionally. So that same sneaker

brand

may need to start to look at keywords like "accessories."
Reach Gen Z with eCommerce Agile Methodology.
Scrum50 is the first born agile marketing agency. Their mission is to marry world-class strategic creative with efficiency by embracing agile marketing approaches—employing shorter production sprints managed by uniquely-talented hybrid teams. They focus on three competency areas for clients: (1) Agency Services, (2) eBusiness, and (3) Digital Transformation.
[1] Generation Z, New insights into the mobile-first mindset of teens, think with Google, 2016 https://www.thinkwithgoogle.com/interactive-report/gen-z-a-look-inside-its-mobile-first-mindset/
[2] Generation Z, The Newest Generation, Response Media,
http://www.responsemedia.com/generation-z-the-newest-generation/
[3] Gen Z Amazon Consumer Journey Group Research, Scrum50, 2018